Top Metal Compensator Manufacturers in India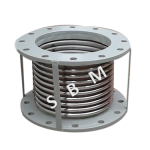 SBM Bellows is a reliable manufacturer, supplier and exporter of metal compensators in India. Our range of products comprises of heavy-duty, high-performance metal expansion joints, designed especially for industries. They efficiently assist in the absorption of thermal expansion and vibrations, and in the elimination of noise transmission, pressure irregularities, and voltage fluctuations. Our products are the ultimate compensating elements you can have for maintaining the relative motion in machines, containers, and pipelines. SBM Bellows is one of the most trusted suppliers of expansion joints. We have always been held in esteem for our customer-centric approach of work. We believe in providing nothing less than high-functionality products. This is why we see to it that every item we manufacture undergoes stringent quality control tests before being sent out into the market.
We understand that customer needs are always on a dynamic route. To meet the ever-changing expectations, we have always focused on research and development, and brought about innovation in our way of work, which complies with the highest standards of the industry. We take pride in our sophisticated, yet robust infrastructure that features cutting edge technology and machinery. Our treasure is our team of skillful professionals who have never failed us. This apart, we are an ISO 9001:2008 certified company, and generate quality products that function flawlessly. It is our unparallelled calibre, zeal to deliver orders on time, honesty, and clarity of work that has marked us as one of the most renowned compensator manufactures in India. So, should you be looking for metal expansion joints, look no further than SBM Bellows.
Our Range Of Products
Axial Expansion Joints: These products absorb the thermal expansion in a straight line (axial direction) between two points. They are also suitable for simple lateral offset movements.
Universal Expansion Joints: They absorb relative movements in the axial, angular as well as lateral directions. They are suitable for low pressure applications.
Hinged (Angular) Expansion Joints: These products absorb bending and angular movements in a single plane and feature a hinged anchoring. They can be attached to the ends of pipe lines. Two-hinged systems are also available.
Gimbal (Angular) Expansion Joints: They absorb bending and angular movements in multiple planes and feature a gimbal-mounted anchoring. These are the most dependable expansion joints ever.
In-line Pressure Balanced Expansion Joints: These expansion joints don't come without anchoring, but help in the absorption of axial deflections. They are essential for managing crucial pressure loads.
Double-Ply Expansion Joints: They help in resisting very high pressures. They are capable of high amount of movement absorption, and are 100% burst resistant.
Lateral Expansion Joints: These products absorb lateral and transverse movements.
The Importance Of Metal Compensators
These products are inevitable in systems that transmit substances of high degrees of temperature, like exhaust gases and steam. They also play a role in systems that absorb vibrations and undergo pressure changes. The compensators designed and manufactured by SBM Bellows, consist of stainless steel bellows, Polytetrafluoroethylene (PTFE), glass fibre, and a polymer like elastomer in their core. The bellows contain flexible convolutions for the purpose of bearing pressure changes, and axial, angular, or lateral deflections. The products can also absorb sound waves, vibrations, and seismic waves. Thus, they are advantageous during building construction, especially in areas prone to earthquake. They have been specifically termed 'compensators' for use in pipelines, because they 'compensate' for relative temperature movements.
The Best Features Of Our Products
High tensile strength.
Tolerance to high pressure and high vacuum.
Wear and abrasion resistant.
Precise dimension.
Compact design.
Robust construction.
Made of high grade material.
Durable and affordable.
Reliable operation.
Customised features.
Easy to use.
Why Choose SBM Bellows?
At SBM Bellows, we pay special attention to the quality parameters of our products. Equally, we are also concerned about customer satisfaction. Our aim is to understand the expectations of our clients and provide futuristic solutions to their expansion joint requirements. The best part, however, is the affordability of our products. We hate overpricing as much as you do. Are you in need of metal compensators that work error-free, without burning a hole in your pocketbook? If yes, then SBM Bellows is the company you should rely on. Contact us now.